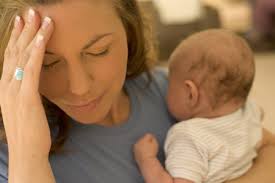 I just left a woman in her house with her baby.  I was her doula, and I was visiting her after the birth, to congratulate her, and make sure she is okay.  My role wasn't actually to check that she is okay.  Most people want a doula for the birth process itself, not for after the birth.  But as a doula who is also a psychologist, I know that the time of settling in after you've had a baby can be much more of a roller coaster ride than the birth itself.  And it lasts much longer.
Knowing how hard it is to adjust to a new baby, I found it difficult to walk away.  She is doing really well.  I have no concerns about her or the baby at all.  She expressed the usual bewilderment, lack of confidence, tiredness, tearful days, that all new mothers experience.  Her tiredness and anxiety are "normal".
But I came away questioning this once again.  How can it be that we accept it as "normal" to feel overwhelmed, anxious, tearful  and tired, after having a baby? Neuropsychology actually suggests that parents and babies are primed for joy, love and connection, not misery.  In fact, every time there is a joyful and loving interaction, the baby's neural connections become stronger.  The baby's brain literally grows in response to joy and oxytocin.  Evolution has encouraged this, and we can see it every time some-one comes in to look more closely at the baby (which, as it happens, is the prefect distance for the baby to be able to focus on you) and then smiles and coos at the baby.  And we simply can't help ourselves when babies smile back at us.  We immediately laugh, smile, and coo even more (or is that just me?).  We all do it, adults and children alike.  In other words, the need for joy and connection is not just met by the mother, it is met by all of the baby's social circle.
However, in our society, we seem to think it is normal to feel exhausted, overwhelmed and wretched in the first 6 weeks of babyhood. And if we "expect" mum to be struggling, then how do we spot when "normal" becomes "depression"?   Women I speak to whose diagnosis was missed,  say that they did tell their midwives and health visitors that something wasn't right, and that they didn't feel normal.  But they were told that that was normal.   We are also missing the signs in fathers too.  Postnatal depression amongst fathers is on the increase. This, I am sure, is related to the enormous pressure they are under to be a hands-on dad, to be at the birth, to look after mum, and to continue to work full time, with barely any paternal leave or additional support.
How did we get to a place where it is considered normal to feel rubbish after you've had a baby? Is it really normal to feel miserable and trapped and overwhelmed and exhausted?  While I was vaguely musing about this in the back of my head, I left my doula client on her own in her house.   As I left, I said "it doesn't feel right leaving you alone".  And it really didn't feel alright.  Not because there's anything wrong with her, or her ability to cope, or her mental health, or her bonding with her baby.  But because I was leaving a woman on her own in a house with a four week old baby.   If that seems okay to you, then that is because that is what our society does.  It's normal in our eyes.  We have stopped being able to see just how wrong that is.  But it is wrong.
Looking after a baby is a full time job. Well, no, it isn't actually.  With a full time job, we get to go home, sleep, eat, shower, tidy up, switch off mentally, and choose what to do in between the job.  A baby does not give you predictable time to do any of the above.  You might get to take the lunch out of the fridge and microwave it, but you might not get time to eat it.  You can never switch off, and you have to be always instantly interruptible.  Just having one other person in the house makes such an enormous difference to all of these things.  You can shower.  You can prepare lunch.  You can leave the house for hours!  You can sleep for hours.  You can turn to some-one and say "oh my goodness, this is ridiculous" and have a bit of a laugh together.  Just having one other person in the house makes such a difference.  And yet, we leave women on their own in the house all day every day, and think nothing of it.  Single women also have that burden all night too (I can't even imagine how our society can fail to grant them utmost respect .  They certainly have mine.).  Not only are new mothers left with the constant rolling demands of looking after a baby, but they are left in a house which needs attention.  If it isn't given attention, she will be living in her own mess and dirt.  No-one wants to do that, and yet, we happily say to new mothers "leave the housework, it will wait". I disagree.  It won't wait, unless you actually want to live in your own dirt.
Contrast this with other cultures.  Imagine , for a moment, that you have just had a baby.  You are tucked up in your bed, with your baby beside you (yes, you are allowed to sleep alongside your baby, just like every other mammal on the planet does).  Your room is clean and tidy, because some-one else is looking after that for you.  Every four hours, some-one comes in with delicious home cooked food for you to eat.  Every morning, some-one is there so that you can get out of bed and shower and freshen up.  Once a day, you are given a hot stone all-over body massage.  Yes, this really does happen in a number of cultures!  The daily food and massage are considered to be an essential part of your recovery, both physical and mental.  You and your baby are together. Your job is to get to know your baby, and enjoy being with your baby.  You feed and change your baby.  You get to know your baby. You sleep and recover.  After a number of weeks of this, you are considered transformed enough to emerge into the real world as a fully-fledged mother.  Like a butterfly emerging from its chrysalis, the transition to motherhood is viewed as a psychological and physical process, not as a on- off biological "event".
Our culture doesn't do that.  And we pay the toll.  Perinatal mental illness is a rising problem generally, and the government are trying to put in place strategies for identifying and treating people who are suffering. While identification and treatment is important, it does place the emphasis on the individual woman, with the risk of blaming her as some-one who "couldn't cope".  Also, thinking that all we need to do is "treat" her with tablets and therapy also risks us reducing postnatal problems to discreet illnesses that just need "medication".  Postnatal depression is not the women's fault, and it is not a discrete illness like diabetes.  It needs attention from our culture too.  We need to treat women better when they come home with their new babies.  We need to realise that what we are asking of them is too much.  Being on your own regularly in your house with a baby or toddler is asking too much.  We need to start honouring, and caring for, mothers and fathers, because that is how we built parents strong enough to really care for our future generation.